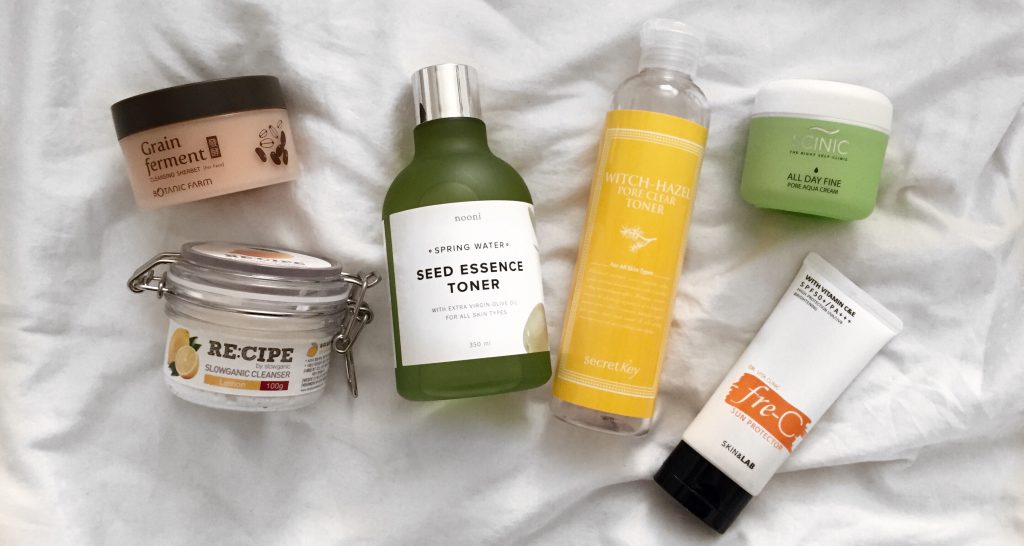 Asian beauty products are popular all over the world. We reach for them hoping for the flawless Korean-like face skin. At the beginning, there were BB creams combining the properties of a moisturiser, light foundation and sunscreen. Asian cosmetic market offers both cosmetics and a specific approach to beauty and care. Its best explanation and summary can be found in the ten-step skin care ritual comprising: make-up removal, cleansing, exfoliation, toner, essence, ampules and concentrates, masks, eye creams, moisturizing and sunblock. What the ten-stage ritual involves? Here's the Korean skin care routine my way!
Step 1. Make-Up Removal
I start off my Korean ritual with a proper cleansing routine. Because I wear (eye) make-up every day, I cleanse the skin with a wet wipe or a bi-phase remover first (I prefer the latter). Next, I massage make-up removing oil in the damp skin of face and neck to dissolve the make-up and sebum residue. I massage the oil-covered skin for around sixty seconds and wash the face and neck using lukewarm water. The effect of smooth, moisturised skin is immediate.
Step 2. Cleansing
When I finally get rid of make-up, I move on to cleansing. First, I rub some water-based facial cleanser (e.g. gel) between my palms, smooth it over the skin using circular motions and massage the face. Eventually, I wash my face with lukewarm water. As a result, I completely get rid of impurities plus increase blood flow.
Step 3. Exfoliation
A scrub helps you remove dead cells, purifies pores and leaves skin smooth. Additionally, depending on the properties, it makes skin brighter or evens out skin tone. I use a delicate face exfoliator more or less twice a week. I use an enzyme scrub massaging it gently in. If you prefer a coarse-grain scrub, tap it in skin and rinse out with lukewarm water after a few minutes.
Step 4. Toner
A toner is meant for repairing the protective barrier on skin, keeping the pH levels balanced, softening and refreshing. We go for skin tightening toners whereas Asians prefer moisturising ones. Why? It is another opportunity for giving the skin a moisture boost and nutrients. On the other hand, women in other world regions prefer shrinking pores and drying the blemishes out.
I use cotton pads slightly soaked in a moisturising toner or a spray toner. It is an effective solution and huge pleasure especially in the morning!
Step 5. Essence
Essence is a critical product in Korean beauty regimen. It is an efficient, condensed cosmetic applied after the skin cleansing routine. It is composed of active ingredients that hydrate skin and enhance processes in cells. Essence has a lightweight consistency leaving no residue.
I use this multi-functional product for both skin and hair care. It works ideally, not clogging skin pores or weighing hair down.
Step 6. Ampules & Concentrate (Serum)
Ampules and concentrates are known to us as serums. Concentrated products fighting specific skin problems e.g. dryness, excessive sebum production, pigmentation spots, wrinkles and freckles. Serum treatment shouldn't last long – give it up when the problem is solved. If your skin is non-problematic, feel free to skip this step.
Step 7. Masks
I apply traditional masks or sheet masks at least twice a week. If I were to point at my favorite, it would be the sheet mask. A sheet soaked in a serum prevents the active substances from escaping plus it clings to skin for more intensive effects. I leave it on skin for around 30 minutes. Then, I spread the remaining product all over the skin.
Step 8. Under Eye Cream
The eye area reveals a woman's age. The bruises and puffiness deform reality as well. Appropriate eye creams are remedies for swellings, puffy eyes and crow's feet. Korean eye products resemble the essence or serum in ampules: light and condensed.
Step 9. Moisturising
Korean women use moisturizers only in the evening. Because such a cosmetic is usually thick, they leave it for the end. They (I join them) use a sunscreen emulsion in the morning. All in all, I apply a moisturiser before sleep, waiting for a moment until it is absorbed. Also, I treat myself to a moisturising mask once a week.
Step 10. Sunblock
Sun protection is the most important element of the daily Korean skin care routine. After all, UV radiation is the main cause of discoloration and wrinkles so let's not forget it. In Asia, women, men and children remember about it especially considering the fact that they can choose between various creams, powders and lotions; women additionally can go for sunscreen make-up primers.
What are your thoughts on the Korean beauty products and skin care? Have you ever followed the Korean skin care routine? If so, what do you think about the effects? Share your impressions!