Hey guys! How about having the XXL-size hair volume all the time? I'm in too! On condition that I don't need to spend hours in front of the mirror fighting with a brush and hairdryer. Nanoil has found a remedy to handle the styling issues – a volume-heightening spray, Nanoil Hair Volume Enhancer.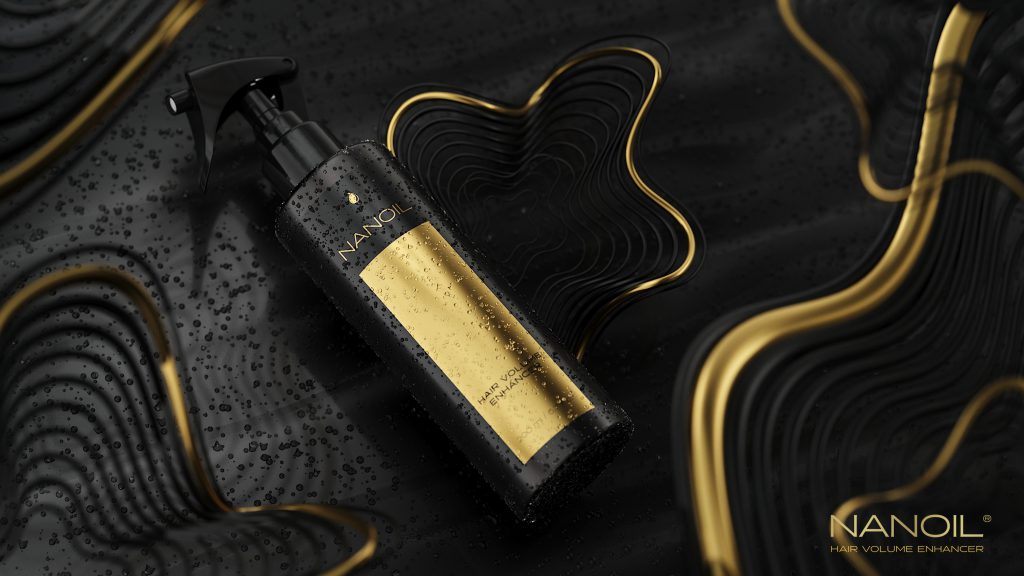 Flat hair bothers many women. The situation gets even worse when it's freezing cold and we need to wear a hat. Our hairdos rarely survive it. Everyday blow-drying with a round brush or sleeping with rollers on to lift the roots seem to be the only way to get the desired volume. To be honest, I don't want to do that and don't know how. I'm more into hair looking natural while it's easy to go too far when styling. Beyond that I never knew how to get the right amount of a hairspray or mousse to avoid the helmet-head feeling or flat, limp-looking strands.
Nanoil Hair Volume Enhancer – full-looking hair of your dreams
Despite all that I never gave up on dreaming of the perfect hair volume. It was a good thing because I finally found an item which really helps. It's a volumizing spray called Nanoil Hair Volume Enhancer. Tempted by the great price and thousands of glowing reviews and comments, I gave it a try. How does it perform?
The consistency of Nanoil volumizer was the first pleasant surprise. I'm used to root-lifting powders or mousses which leave residue or sprays which make hair sticky. This one is different, an elegant black-and-gold bottle houses incredibly light hair mist. It gently envelopes the hair making it look fuller.
Nanoil Hair Volume Enhancer – no hairbrush or rollers, no problems
How to use it? Very easily: spray it evenly on hair after washing or on dry hair before heat-styling, then comb the hair and style as usual. Now let the magic happen. It turns out that we don't need round brushes or rollers to make hair more voluminous! With this spray, lifting the roots using the fingers is enough to create volume lasting all day. That's what I've always wanted!
On the next day my hair is never greasy or sticky. On top of that I think it looked healthier after the very first use. I knew what took credit for this effect after I looked into the list of ingredients. I found my beloved keratin proteins in the formula. They've revived my hairdo many times from some in-salon fails because keratin is able to repair damaged cuticles. Nanoil Hair Volume Enhancer also contains pro-vitamin B5, an amazing moisturizer for hair. The third component is the absolute staple and hit of recent months – wheat proteins guarantee easier styling, thicker hair, plus boosted hair repair and revitalization.
My hair is also shiny, feels soft, and is free from frizz and resistant to static.
All these benefits will make Nanoil Hair Volume Enhancer stay with me for longer. 🙂
The best place to buy it is the Nanoil's official store on www.nanoil.us – quick shipping and home delivery. I'm sure you'll be pleasantly surprised by the price and product's quality.
What about your hairstyling secrets? I'll be happy to read about them! <3