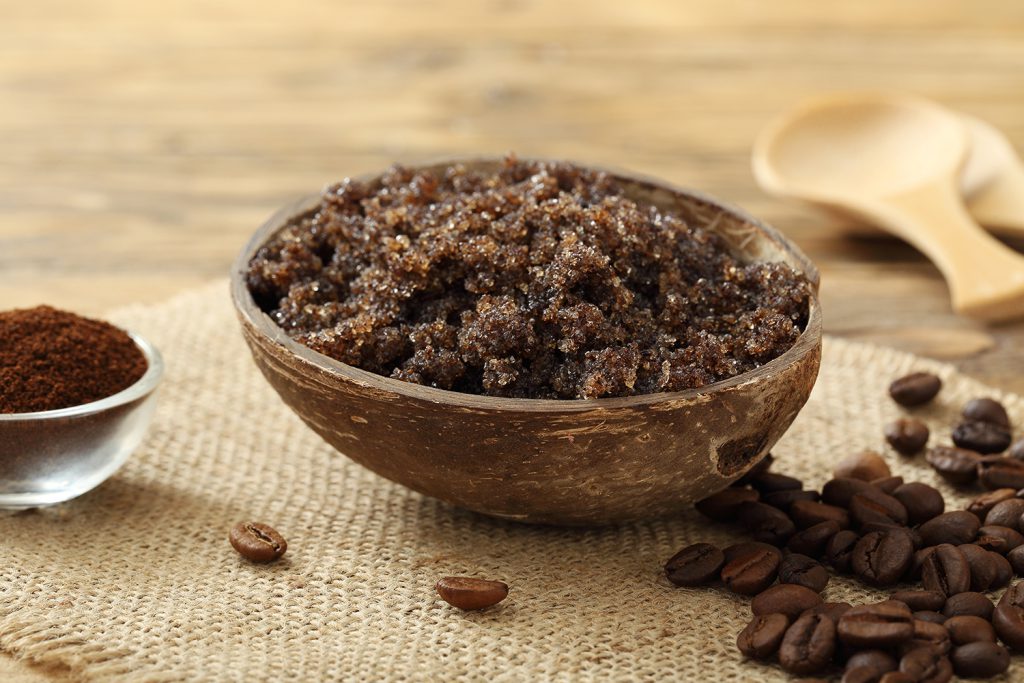 Hello, lovelies! <3
I've been getting a lot of questions about scalp exfoliating scrubs. Are they worth doing? Why? What benefits will you gain and how the entire beauty world managed to survive up to recently without such a product? How did it happen that suddenly, nearly every cosmetic brand has a scalp exfoliating scrub in its offer? Is it safe? Can it weaken the hair at the roots? Isn't it better to use a deep-cleansing shampoo instead? Let me explain! 
Scalp exfoliating scrub – what is it, what is it for?
In fact, a scalp scrub is not a brand new invention. In many Asian and African countries is it a cosmetic used on a daily basis. So far, its task was rather limited, because it was aimed to cleanse the scalp of dirt, dust, and pollution.
Today's peels are a bit more advanced. First of all, they have a slightly different, less hmm … "invasive" abrasive particles, so you do not have to worry that they will weaken your bulbs or (I have heard such opinions) "tear" the hair out of your head. A scalp exfoliator is supposed to cleanse and stimulate subcutaneous circulation to strengthen these weaken bulbs, which will be more firmly rooted in the follicles and begin to work more effectively, so that hair growth is stimulated, and hair loss limited.
The scalp scrub works basically like a peel – it doesn't only cleanse the skin of toxins, impurities, and cosmetics, but also regulates processes occurring on the surface, leaving it healthy, without irritation, dandruff, and excessive seborrhea.
Scalp scrub – how to do it?
Scalp scrub is extremely easy to use, although, it does not take a second – you must devote some time to wet the hair, cover it and the scalp with the product, gently massage, rinse and wash the hair as usually. Therefore, it is best performed right before washing your hair. Also, it is enough to do it once a week, however, in the case of very oily hair, it can be more often, even 2 or 3 times a week.
Scalp scrub – advantages 
cleanses the scalp from toxins and cosmetic debris;
improves blood circulation in the scalp;
improves the work of hair bulbs;
prevents hair loss;
prevents the scalp from oiliness;
soothes irritations;
strengthens the blood supply to the scalp and bulbs;
prevents hair damage;
lifts the hair at the base;
strengthens the action of oils, conditioners and hair balsam.
Cleansing shampoo – what is it, what is it for?
A cleansing shampoo is a completely different cosmetic than a scalp scrub. Its main task is to cleanse the scalp of sebum and cosmetic build-up. So the skin gets cleansed and the shampoo often contains strongly drying ingredients that are to reduce hair oiliness. That's the reason why it must be selected more carefully. What is more, it cannot be used too often because it can increase scalp's dryness. A cleansing shampoo is perfect for removing toxins of the hair and scalp, however, it is not suitable to get rid of dead skin cells.
Cleansing shampoo – how and when to use it?
If you notice that your hair becomes heavy, lacks volume, gets oily often or if you use too many stying cosmetics – then, a cleansing shampoo will be a great solution because it will cleanse both the hair and the scalp. However, it is not able to reinforce hair bulbs, and will not stimulate them to work. Thus, this type of shampoo can be applied once every two weeks.
Cleansing shampoo – advantages 
cleanses the hair of the remains of styling cosmetics;
cleanses the scalp of toxins and impurities;
regulates the level of sebum;
works perfectly when used before a hair mask, because it slightly opens up the hair scales;
it can be used before wet hair oiling.
If you are still wondering which cosmetic will be more suitable for your hair, I will tell you that there are alternatives to the scrub and cleansing shampoo in the drugstores. One of them is a natural, cold-pressed oil that perfectly cleanses the scalp and stimulates blood circulation, and at the same time, regenerates the hair. Another good idea is to buy an exfoliating shampoo, which not only cleanses the hair but also provides it with a delicate exfoliation and thus cares for a healthy scalp, strengthens the bulbs and improves their work. The shampoo is more comfortable than a scrub because the scalp is cleansed itself while washing the hair, so we shorten the duration of the treatment.
Do you use a scalp scrub? How does it work on your hair? Do you see the difference in the scalp's condition? Or are you a fan of cleansing hair shampoos and you will not be tempted to exfoliate your scalp? Maybe you know some cleansing cosmetic, worth recommending? Let me known in your comments:)