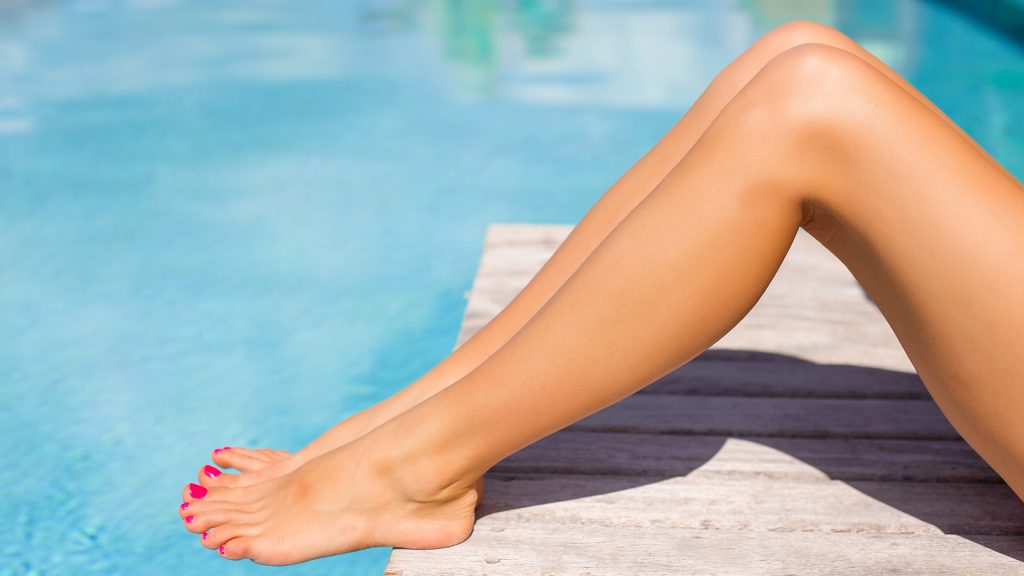 Hello Girls,
Recently, I've eased off the subject of hair, yet I've taken my interest in various methods of removing it. Naturally, it's not about the hair growing on my head! For now, I'm not planning to replace my mane with bald skin 😀 Currently, I'm running tests concerning different methods of removing hair from my legs. Today, I'm going to reveal whether using hair removal creams is effective or not. Are you curious?
Hair removal creams are popular because their application is easy and safe. Contrary to other methods of removing unwanted hair, use of creams isn't connected with any risk. To clarify, we won't damage our skin, we can forget about crying for pain as our skin won't be blemished by in-grown hair. As far as I'm concerned, hair removal creams are almost as popular as epilators or wax stripes because they can be used to all body parts. Additionally, they take care of skin enabling us to enjoy smooth and beautiful legs for a very long time.
How does hair removal cream really work?
This belongs to one to, so-called, chemical methods of hair removal. In other words, a decent cream contains chemical compounds (acid derivatives) which are able to 'dissolve' hair. And to be more precise, it's keratin which hair is built of that gets dissolved, in particular. Moreover, a regular hair removal cream bases their action on two compounds – sodium thioglycolate and calcium, no matter how confusing it might sound. To clarify, these two substances are responsible for dissolving keratin, so they remove hair in full. They can penetrate deep into skin, therefore not only the external part of hair is removed but also the part that grows underneath skin's surface. As a consequence, it takes longer for hair to grow out so we can enjoy smooth skin for weeks. What's important, there's no worries when it comes to a cream disturbing work of other elements that our skin is made of like, for example, sebaceous glands – products available on the market are checked for it.
Since the active substances dissolving hair are fairly strong, the producers enrich their cosmetics with additional ingredients responsible for minimising irritations. Most often these are soothing and moisturising substances such as: glycerine, aloe and chamomile extract, urea or liquid paraffin. Thanks to this, a regular hair removal cream delivers extra action in the form of:
effective moisturisation of skin,
softening of skin,
no adverse outcomes in the form of roughness and dry skin.
It's worth giving it a try, isn't it? Just pick the proper hair removal cream.
Which hair removal cream to choose?
Before we decide which cream to buy, it's advised to pay attention to a few important aspects first. Namely, you have to be aware of the fact that, after all, a hair removal cream is a quite strong product, therefore if mismatched to a skin type, it can irritate dermis. Hence, be careful if your skin is irritation-prone!
Information worth checking-out before choosing a hair removal cream:
what skin type is it recommended for?
which body part is it destined for?
what's the application time / speed of action?
how a particular cream should be used?
Obviously, there are plenty of hair removal creams currently available on the market. Firstly, their ingredients and strenght are selected with having a particular skin type in mind (dry, oily, sensitive) as well as destined body part (legs, armpits, face, bikini line). If you need the immediate effects, I suggest you to find ultra-fast products that work within approximately 3 minutes. However, if you aren't pressed for time and if you don't mind waiting a while to obtain the ideal effects, go for a traditional product, which has to be kept on skin for 10-15 minutes. Furthermore, hair removal creams can be selected following our preferences concerning the application method (under shower, after washing) as well as form (cream, gel, mousse). I bet you will agree with me that the choice is wide, isn't it?
How to use a hair removal cream?
Actually, all essential information on this issue can be found on a label or a leaflet attached to a particular product, so I suggest you to follow the instructions included there. Luckily, the producers describe the entire procedure step by step so cream hair removal procedure shouldn't pose a big problem. Last but not least, although I did it numerous times, I always scan the leaflet with my eyes – just in case.
Important! Before applying a cream for the first time, run an allergy test first. Two days before carrying out the hair removal procedure, apply a cream to your wrist and keep observing whether any changes appear. If you don't notice any adverse reactions, you can use the product freely. Hair removal creams aren't recommended for pregnant women, allergic sufferers and people having super sensitive skin.
Step by step: Typical procedure of hair removal with a cream
Apply a thick layer of a cream to skin (don't rub it).
Follow the time directions indicated on the label (yet don't keep a cream longer than a quarter of an hour).
Remove the cream and hair using a special spatula the cream features (no matter the direction).
Wash the skin with lukewarm water (no soap).
Treat your skin with a balm that slows down hair growth speed, or a moisturising body cream.
My feelings:
By far, this is my favourite method of removing unwanted hair 🙂 I carry out this procedure fast, almost as fast as I do it with a razor. However, there is one huge difference between these methods since using a razor for hair removal is connected with the aftermath in the form of irritations. This isn't an issue when you use creams because they contain relieving and moisturising substances. It's worth realizing that a cream is able to dissolve even down so the outcome, which is smooth skin, is incomparable. The effect lasts more or less 2-3 weeks, at least this is how it lasts on my legs. In my opinion, this method is definitely worth giving it a go.