I travel pretty often and I know how challenging it is to gear a toiletry bag up in a way that ensures having absolutely everything that may be found useful and necessary when you're away from home. How to pack all your personal-care essentials in a bag or case that doesn't occupy too much space? Yeap, that's pretty difficult, therefore today I'll be presenting you some ideas on how to pack makeup and toiletry for travel.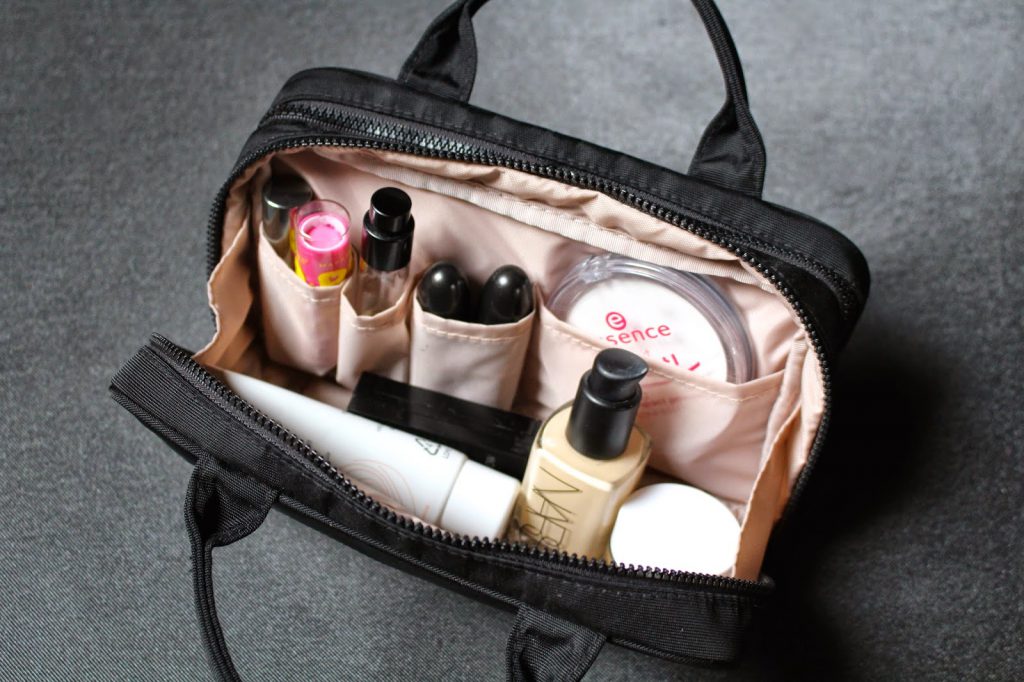 What beauty products are always worth having close at hand to look good and be able to do makeup even if the conditions aren't very pristine (e.g. tent)?
Makeup for travel – basic rules
For a start, let me list you a few principles that are worth putting in life. I strongly believe that once you learn them, packing for travel won't only become far easier but also it'll save you some time. Here are my high principles.
Don't pack all your beauty products.
If you don't use (a chosen product) daily, you won't use it while travelling either.
Take with you only the bare minimum of the products you really need.
Pack only 1 piece of each type of cosmetic, e.g. 1 x mascara, 1 x foundation.
Try to take a multi-purpose beauty product for travel.
My life hack: A separate toiletry bag
If you travel a lot, just like me, let me give you a tip. So, my travel toiletry bag is always packed – I have a separate set of personal care products collected specially for travel. They remain in the bag, I don't take them out because when I'm at home, I use my regular skin and hair products. The biggest advantage of this solution is that you don't have to get your stuff packed every time you're planning to go for a trip. Since my travel toiletry bag is always ready, I just need to throw it into a suitcase and I don't need to worry whether or not I forgot something. On the flip side, however, I'm not sure whether this solution would work out for those who don't travel a lot. There is always an expiry date to keep in mind and it would be a pity if your beauty products spoil before you have a chance to use them.
What makeup products to pack for travel?
If for some reason you have to or simply prefer to pack right before setting off, I'd advise you to have a list of the beauty products to take with you. This will save you time and you won't miss any product that you may need on your journey. In the case of makeup products, the list isn't long.
Foundation or BB cream – choose the product that you use daily to do makeup and even out skin tone; I personally prefer lightweight BB creams that don't separate on the face during hot days.
Do-it-all concealer

– it's worth having a concealer to deal with possible imperfections that the foundation can't hide; one, do-it-all cream concealer to camouflage both dark circles and breakouts.

Mascara

– I can't imagine leaving home without this product so this is my (and many women too, I assume) must-have; for travel I'd recommend using a waterproof mascara since it won't smudge throughout the day.

A travel-size eye shadow palette

– it isn't compulsory but it's worth having an eye shadow palette because it allows you to do not only eye makeup but also you can use it as a blusher; this cosmetic product will also help you define eyebrows and lips.

Brown eye/brow pencil

– not black because it's not that universal; you can use brown brow pencil to define lashes and eyebrows.
Natural oil. Absolutely essential travel item!
Finally, I'd like to give you one of the best ideas concerning essential travel cosmetics that you should always carry in your luggage – a beauty oil. Natural, 100% cold-pressed and unrefined because only such oil is the most universal. In my case, it's raspberry or argan oil, but sometimes I also pack jojoba oil.
Why is having a natural oil in your luggage a good idea? There are a few reasons for that but I'll list you the most important ones. Natural oil is of service to you because you can use it:
as a nourishing and smoothing makeup base.
to thin down heavy cosmetics, e.g. foundation.
to remove makeup quickly and completely.
as a replacement for an eye serum, brow serum or nail serum.
to protect your hair and skin from scorching sun and UV.