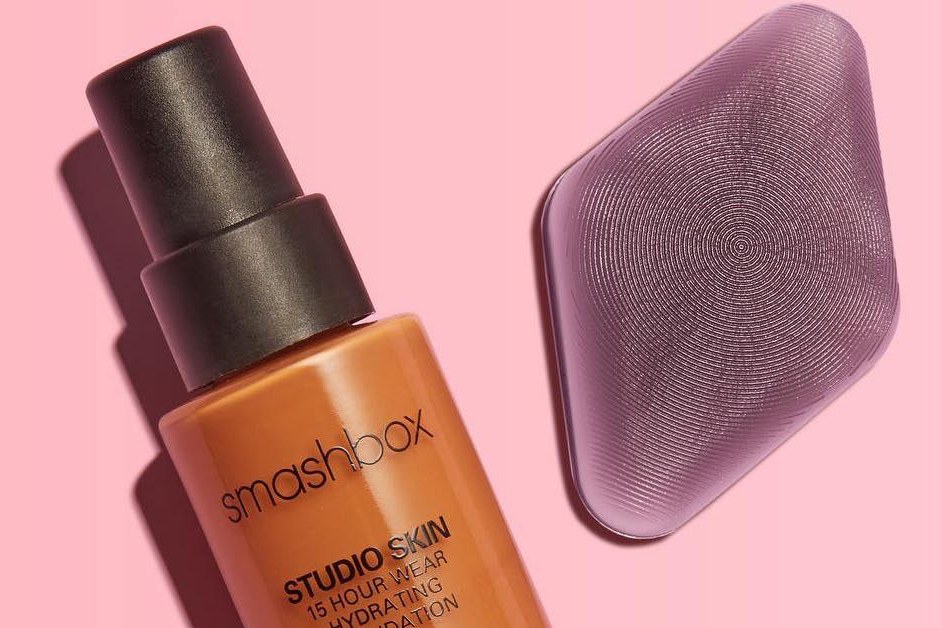 What do you use for foundation application? I'm faithful to Beauty Blender (though sometimes I reach out for its more affordable replacements, which in their quality are not that far behind). My friend loves using a flat top brush, which apparently is great for "stamping" face. I heard about SiliSponge, which supposed to be gel replacement for the sponge that does not absorb product. Lately, it is quiet about this gadget, so I guess it did not stick. What do I want to introduce to you today?
Well, it's a sponge (if you may call it this way) for make-up purposes, which was just released by Smashbox. I don't have many cosmetics from this brand but I fell in love with their mascara, Smashbox X-Rated Mascara. Will it happen with their new make-up gadget?
SMASHBOX: GEL CUSHION APPLICATOR
Gel Cushion Applicator by Smashbox is a gadget that can be found in The Photo Filter collection. It is made of gel, has a small size and a kite shape. However, the most interesting thing about it is its texture, which imitates fingerprints. We usually use our fingers for it, so there is some logic to it.
Judging by the description on the official website, the greatest quality of Gel Cushion Applicator is that it does not absorb products and is easy to clean due to being made with gel. It means we have here same as with SiliSponge. The gel applicator by Smashbox is intended to apply and blend make-up base and foundation very thoroughly providing a natural effect of smooth and even skin.
Let's take a closer look at it.
The qualities of gel applicator by Smashbox:
Cooperates with foundation and other products.
Evenly spreads cosmetics.
The fingerprint texture for the smooth and easy application.
The diamond shape allows you to get to every part of the face.
Requires fewer cosmetics than regular sponge/brush.
Does not absorb, so there is no product waste.
It is hygienic and easy to clean.
My opinion:
As for me, it sounds like curious solution, which goes a step further than the disappointing Silisponge because Gel Cushion Applicator tries to imitate our skin and fingers. Applying foundation with your fingers has one major advantage though: natural body temperature heats up the product and that makes easier its distribution on the face. No gel sponge will be able to imitate it. In spite of it, Smashbox Gel Cushion Applicator is great for make-up, perfectly spreads both heavy and light foundation and any other types, there is no mask effect and obviously, it is easy in use. After you finished, you just rinse it and it is ready for the next use. So what, if it costs so much as for a small piece of gel? There is no innovation to it because Beauty Blender works the same. Perhaps with the difference that the sponge absorbs foundation during the application, yet this is a small amount and it is not worth paying a few times more for different applicator just to avoid it. To sum up — gel applicator by Smashbox works, it is convenient and effective, but in my opinion, it is not worth the money.