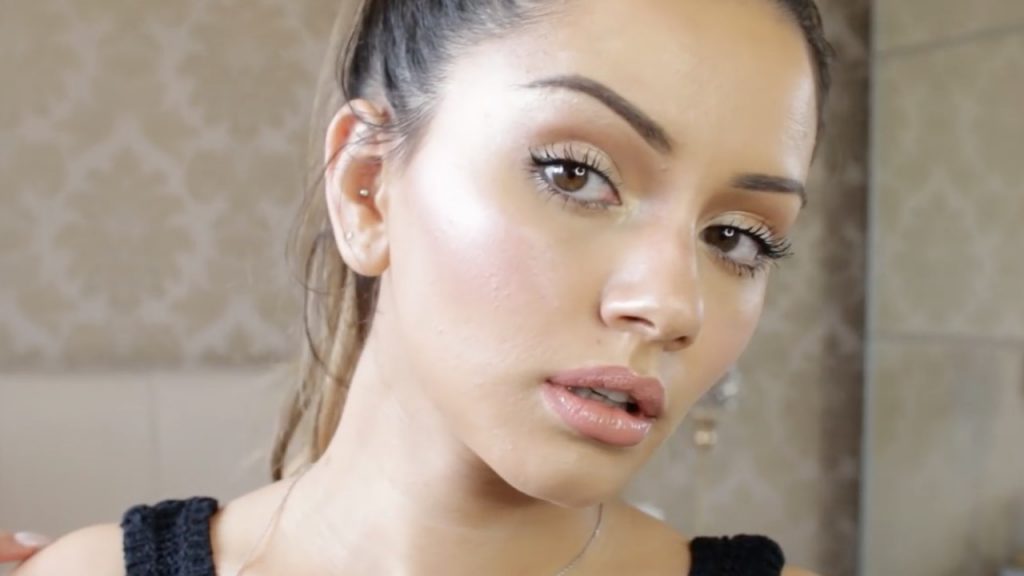 Hi girls, today I would like to discuss a topic that very often appears in many Internet forums. A daily dose of stress, air pollution, UV radiation, and living in a constant rush…all these factors have a negative influence on the condition of the skin. Most of us cannot devote a lot of time to properly take care of the facial skin. Effects? A Dull and tired skin that clearly lacks energy. So how to finally enjoy a radiant complexion without too much effort?  Here is a list of a few reliable tips and tricks that will not take up much time during the day and still bring great improvement.
Complexion brightening treatment in a few steps
Radiant Look – step one: cleansing
A brightening treatment will never bring any effects unless the skin is properly prepared – cleansed for starters. This should be the basis of every skincare routine. I'd rather devote more time to washing my face because I know it will bring better long-term results. The key to ideal cleansing is accuracy and an appropriate cosmetic matched to the needs of the skin. In order to elicit the beauty of the skin, no make-up, dust or dirt should be left overnight. Clogged pores, excess sebum have an extremely bad influence on its condition. Therefore, my make-up removal is always done in two steps: I wash my face with a gentle chamomile gel and next, I use some micellar water that gets rid of everything that remains.
Radiant Look – step two: skin exfoliation
Brightening treatment cannot go without exfoliating. This is why it is recommended to use a product that will not only exfoliate but also nourish the skin. I usually go for enzymatic peel rather than a grained one. After performing the treatment 2 – 3 times per week, the complexion becomes more and more refreshed, clean and radiant. This way all dead skin cells are regularly removed leaving the face smooth and full of energy.
Radiant Look – step three: facial mask
I always apply my facial mask right after the peel – this way the skin is able to absorb more valuable substances and micronutrients. If I do not have enough time to apply it and wait 20 minutes for it to work, I reach for a mask-cream recommended for the use at night. Make sure to choose the one that is rich in vitamins. Throughout the night, your skin will have the chance to regenerate itself and intake valuable nutrients because the ingredients will have more time to penetrate deeper parts of the epidermis.
Radiant Look – step four: cream, serum & oils
Face cream cannot be omitted. However, it is always good to enhance its effects. In this case, I reach for two more cosmetics, those are a face serum (daily use) and a natural oil (for the night). The serum is a true hit! Thanks to it, my complexion becomes awakened and radiant in no time! If you are looking for a true face boost to use in the morning, I suggest that you use a condensed serum with gold particles (they reflect the light). You can also use illuminating face pearls available in drugstores. The small capsules can really be a gamechanger. Moreover, a radiant look can also be achieved by using natural oils – you can try out one or a blend of oils – also available in drugstores or healthy food shops.
OK, so we have got the care covered. How about make-up? Can it also make your skin look glowing? Yes, of course! Below you will find a few make-up tips on how to make your skin look radiant, smooth and fresh.
Brightening make-up – what to keep in the makeup bag
You have probably heard and read how to do brightening makeup step by step hundreds of times on youtube, blogs and online forums. However, there were always specific cosmetics and selected cosmetic companies mentioned. I would like to draw your attention not to what the EXACTLY buy, only in general what kind of products to look for.
Make-up that will brighten the complexion will not be perfect without a good base – preferably one that scatters light and gently lightens the skin. My favourite serum is the one that has a delicate, pearly glow. When applied to the face, guarantees a flawless and radiant skin.
Face highlighter and cheek blush – preferably, if they are not matte – look for microscopic particles of gold or silver (depending on whether you have a warm or cool undertone). Skin covered with these cosmetics looks very healthy and radiant. Such make-up should always be finished with a highlighter – I apply it not only to the cheeks but also as a shimmery eyeshadow. Thanks to that, my look also gets brighter. If you like the game of light on your face, you can invest in a good strobing palette – that will help you make a really strong, shimmering make-up.
Face highlighting – the best ingredients
Last, but not least, I want to serve a real cherry on the top;) Here is the list of ingredients that brighten up the skin, improve natural radiance, boost energy and even out skin tone. Always look for them in face creams, masks, or even make hydrolates yourselves. Your skin will definitely be grateful, and in return for your effort, it will look wonderful.
vitamin C – a real rejuvenating energy booster. You should look for a serum rich in this vitamin. It is one of the ingredients responsible for a radiant look that reduces free radicals at the same time.
citric acids (AHA) – guarantee even skin tone and brightened skin.
sunscreens – protect against harmful solar radiation that damages the skin permanently; help maintain a natural and healthy look.
vitamins – are the great geniuses that prevent sagging, make the skin resilient, with a healthy colour
omega acids – good fatty acids reinforce cell division, take care of the processes taking place in the cells. Natural oils are their source, and those are responsible for glowing skin. I usually use a blend of oils that I apply in the evening before my face cream. Thanks to this, after I wake up, my skin is radiant, properly moisturised, soft, ageing processes are inhibited and dry patches are no longer a threat.
I truly recommend Argan Oil an Shea Butter:)