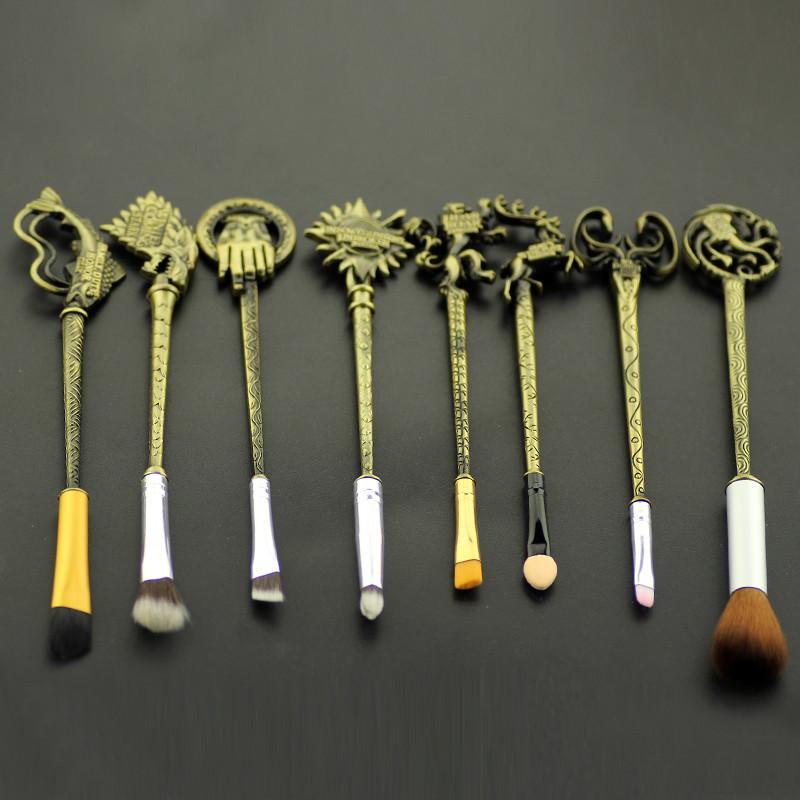 Winter is coming…
Who doesn't know it?! All Game of Thrones fans have probably immediately recognised this motto of one of Westeros clans. On the other hand, all female fans will be happy because Game of Thrones inspired make-up brushes have hit the sale. For the reminders, Davida Benioff and D. B. Weiss TV series was based on fantasy novel "A Song of Fire and Ice" by George R. R. Martin. Nonetheless, fans of books and series gadgets must hurry. The brushes' collection made by The Catch 96 is a limited edition.
Game of Thrones make-up brushes
The Catch 96 collection holds eight make-up brushes for eyes and brows. Each of them has an emblem of the houses that have on them their motto referring to the given family. Therefore, we have here:
fish, the emblem of House Tully and their motto "Family, Duty, Honor";
wolf, the emblem of House Stark and their motto "Winter is coming";
rose, the emblem of House Tyrell and their motto "Growing Strong";
hand, the emblem of House Allyrion and their motto "No Foe May Pass";
deer, the emblem of House Baratheon and their motto "Our is the Fury!";
lion, the emblem of House Lannister and their motto "Hear me Roar!";
three-headed dragon, the emblem of House Targaryen and their motto "Fire and Blood";
Kraken, the emblem of House Greyjoy and their motto "We do not Sow".
Make-up brushes are available in three colours. You can choose out of gold, old silver or old gold. Each applicator has a length of 15,6 cm and is wide around 3,4 cm. However, the bristle is made with nylon fibres of the highest quality. These are safe for skin and great for application of both liquid and loose cosmetics. Applicators differ in colour of bristle and the metal ends that hold the bristle and which is decorated with the emblems from Game of Thrones. The brushes will look phenomenal on the dressing table or in the cosmetic bag. Also, on the Internet available are cosmetic bags with series and film theme.
If you like Game of Thrones inspired make-up brushes, buy them quickly because if we may paraphrase Eddard Stark words the woman who buys the make-up brushes should also use it.