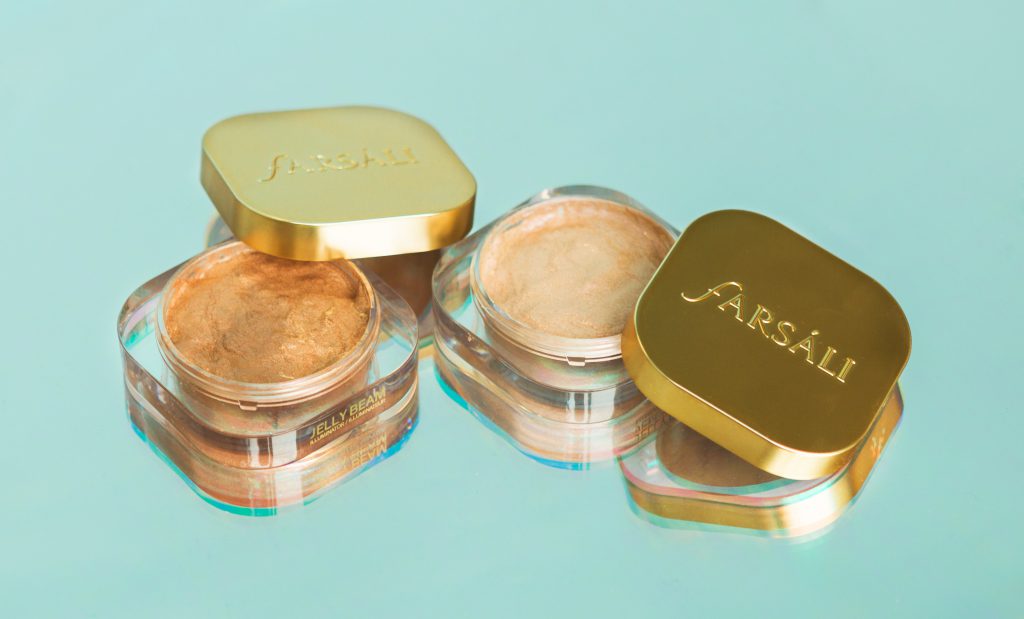 Highlighters are this season's number one hit when it comes to makeup products. Many women have gone crazy about it. Jelly-like highlighter from Farsáli is one of the most popular ones among its range. Where does the popularity of Jelly Beam Highlighter come from? Let's find out!
We can divide women into to groups. Those who love mattified makeup and another group in love with a glowy and dewy finish. A skillfully applied highlighter can reconcile these two sides – it can add life to the complexion and naturally brighten it, but without the effect of exaggerated shine. It is important to know how to apply such a cosmetic (the key is where we apply it and in what quantities), but it is also worth choosing the right product. It's a cosmetic with different shades, saturation or intensity. It can come in either pearl or glittery finish.
What is Jelly Beam Illuminator – the highlighter from Farsáli? Read more about this unique product that has been loved by women around the world and which has become a cosmetic star.
Jelly-like highlighter
Well-known pressed highlighters, loose and even in the form of a cream are now being replaced by an absolute novelty – a jelly highlighter. This unusual formula is an innovation that hundreds of women around the world have come to love. Why? Because the illumination effect after applying this cosmetic is stunning. Jelly highlighter looks like crystalline on the skin, shimmering with a golden hue and reflecting surface. No wonder that so many celebrities and influences have fallen head over heels with this multidimensional glow.
Farsáli – about the brand
The idea of creating a jelly highlighter was not taken out of the blue. This is a product created by the Farsáli brand, founded by a husband of a world-famous beauty vlogger. Farah Dhukai is an Arabian beauty by whom Farsáli oils (Unicorn Essence, Volcanic Elixir and Rose Gold Elixir) were created – praised by bloggers for multi-purpose use and remarkable effect. Today the same hearts are conquered by the jelly highlighter Farsáli Jelly Beam Illuminator. Is this another product of this brand, which is worth paying attention to when shopping at the drugstore?
Farsáli Jelly Beam Illuminator
Jelly highlighter by Farsáli is a big surprise even for makeup fans. This is the first such highlighter on the market, which comes in a non-standard form of a light jelly.
It's hard to imagine how it feels, but just search for the Farsáli Jelly Beam Illuminator highlighter on the web to watch a lot of videos from the presentation of this product. Its velvety consistency is something we will not find in any other brightening product. It resembles a gel, but has the properties of a powder and is highly pigmented. Also, it spreads smoothly on the skin and leaves a pleasant feeling of coolness, while giving the effect of incredible multidimensional illumination.
Jelly Beam Highlighter is available in three shades:
Glazed – frosted champagne,
Glow Up – champagne pink,
Rose Goals – rose gold.
It is a vegan product, not animal tested, free of parabens, phthalates, etc.
Highlighter Farsáli – effects
It is difficult to describe the effect of the Jelly Beam Illuminator. It resembles some liquid highlighters available on the market, but it is highly pigmented. Just one finger stroke on the skin is enough to turn it into a golden surface that perfectly reflects light. This effect will certainly be appreciated by fans of multidimensional effect, because the saturation of the jelly highlighter makes the makeup far from natural and delicate, although, not exaggerated.