Most women can't imagine going outside mascara-free. Why is that? Because even this simple "procedure" – applying mascara – enhances the eyes, plus it boosts self-confidence. Every woman dreams of breathtaking, long lashes but we can't all boast about having them by nature. We don't need to worry, though! There are numerous ways to thicken and lengthen the lashes!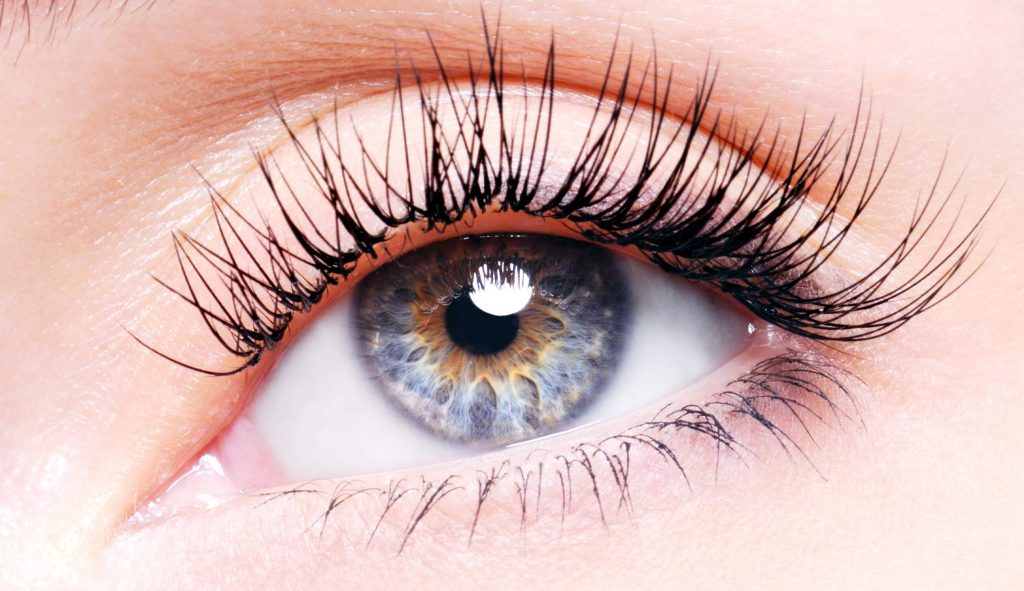 WHAT LASH-CARE PRODUCTS TO USE?
Many women decide on putting on fake extensions or applying several mascara coatings. Note that there are some less radical techniques you can use e.g. following the correct eyelash care. Using a lash serum is the best thing you can do. The cosmetic industry offers even lash-nourishing mascaras which improve both the appearance and condition of lashes. A natural vegetable oil or petroleum jelly work well too.
REGULARITY IS THE PRIORITY
No matter what product you decide to pick, you need to do it with the optimal frequency. If you want to achieve the effect, you need regularity. Put your mind to removing makeup but always remember to be gentle because rubbing the skin harshly leads to losing some lashes and irritating the eyes or skin.
USEFUL GADGET
A lash curler turns out to be an irreplaceable tool. You must be careful, though! Follow the directions and never ever use curler on mascara-coated lashes! This leads to lash breakage.
DON'T FORGET THE DIET!
Let's remember that a balanced diet benefits both physical and mental health. Tasty and healthy foods strikingly improve the lashes, hair and nails. If we want to achieve the dream look, we can't forget about eating a sensible diet!
FALSE LASHES EFFECT
Personally I'm not a fan of fake lashes, I've never used them because they look extremely unnatural (especially if a person applying them tends to go too far). Thankfully, there are mascaras coming to rescue and making the lashes a few times thicker and longer. The formulas let us create the stunning look without losing authenticity.
WHEN TO REPLACE YOUR MASCARA?
Mascara, like any other product, has an expiry date. Using it past the date may bring miserable consequences. The mascara may clump the lashes, making them look awful, but the worst thing is it can harm your lashes and eyes.
WHAT ARE THE CONSEQUENCES OF OVERUSING WATERPROOF MASCARAS?
Ingredients in waterproof mascaras save users whose eyes tend to be watery. Unfortunately, we must remember that the longer we use them, the worse our lashes get. That is why it's best to leave them just for special occasions when we want to stun. Also, removing waterproof mascara means rubbing the eyes harshly which makes the lashes worse. Choosing a mascara which has different properties is a better option.
SLEEPING WITH MAKEUP ON
Never make this mistake! I agree that sometimes you may be too tired to remove your makeup or you have a lazy day but this is surely the most serious crime against your skin! When you let the mascara stay on the lashes throughout the night, it forms a layer which causes lash loss and breakage. Eyelashes are easily damaged and hard to repair. Plus your face skin suffers a lot.
WHICH MASCARA TO PICK?
Obviously it depends on your expectations. You can choose between lengthening, thickening, colored or waterproof mascaras. We all have different lashes so a thickening mascara makes a good pick if your lashes are thin and barely-there. As the name suggests, a lengthening mascara benefits short lashes, and works well for sparse hairs as well.
THINGS TO REMEMBER
Our lashes are fragile and need tenderness. While removing makeup or applying lash-care products, we need to be cautious to avoid damage and breakage of fragile hairs. You can easily pull them out. Keep yourself healthy, follow the rules and I am sure you will get the desired effect: lovely, healthy eyelashes.