Hey, Everyone! I'm glad you're here again 🙂 Today I'm going to discuss the issue of hair styling – blow drying, to be more precise.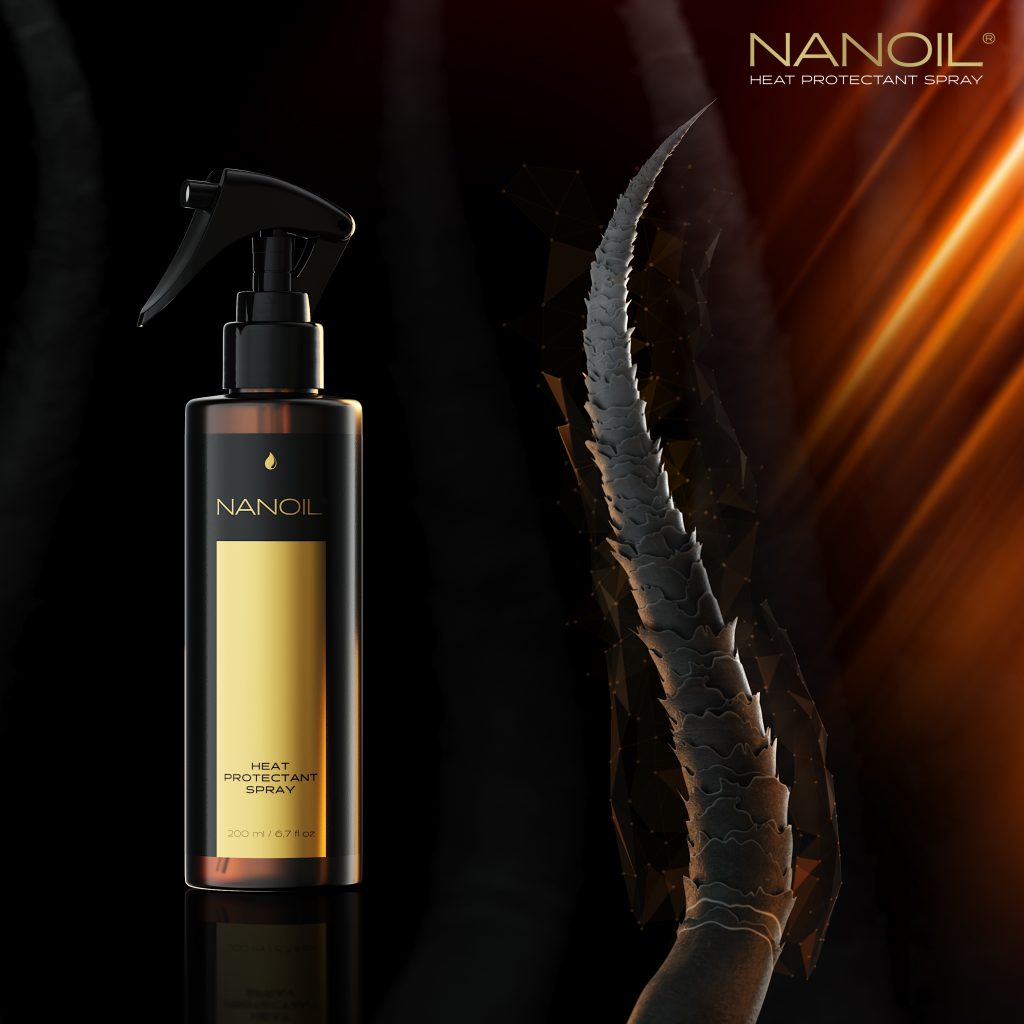 Even if you do everything you possibly can (apply conditioners, masks, oils, and get the splitting ends trimmed regularly) to protect your hair from damage, then sadly… it's still not enough. It appears that one of the basic elements of day-to-day hair care is heat protection. Before you say "What heat protection? It doesn't concern me at all." – think for a second how often you use a blow-dryer. See? Luckily, a thermal heat protector comes to the rescue.
Why and how does a blow-dryer damage the hair?
First, let me explain why I niggled at the blow-dryer. Contrary to popular belief, this seemingly inconspicuous tool that most of us use on a daily basis isn't that innocent. It gives off hot air (50-70°C/120-160°F) to dry your hair faster after shampooing. And that's a lot for delicate hair because when exposed to such a temperature, the scales that overlap each other rise, kicking moisture off. The quickest the hair loses water, the more often it's exposed to the blow-dryer, and heat styling in general. As a consequence, after a few weeks hair becomes dehydrated and frazzled.
The best protection for my hair – Nanoil Heat Protectant Spray
I've known Nanoil cosmetics for some time now. Most often I reach for their cold-pressed oils, keratin hair mask and the hair oil designed or medium porosity hair. When I saw that Nanoil had launched more hair care products, I was rapt. Among these three styling sprays I noticed a true gem – a heat protection spray that shields strands against the heat and high temperatures. Without much thinking, I ordered it. As always the package was delivered fast.
How does Nanoil Heat Protectant Spray work?
This cosmetic turned out to be ideal for my hair. Just look what it can do
Protect the hair even from the extreme temperatures – 220°C/440°C is when the Nanoil protectant is still active. This means that you can use it not only prior to blow drying but also prior straightening.
Is lightweight and pleasant to use. I didn't notice it leaving any residue on the hair. Neither does it leave a greasy coating unlike most products of this kind.
Not only does it protect from heat but also due to silk proteins it moisturizes, conditions and improves hair's appearance. It makes hair smoother, shinier, softer and bouncy.
Saves you more time because it reduces drying time. It also makes styling easier, thus less time-consuming.
Is available online, has a lovely aroma, and one bottle lasts long. It's formulated with the quality ingredients. Taking all this into consideration, this heat protectant it's not expensive at all.
Helps you create a good-looking blowout that lasts long. Owing to this spray, I don't need to use other styling products like a mousse, for example.
Is easy to use because it has to be sprayed on dry or damp hair before blow drying. That's it – just one step to take.
I see Nanoil Heat Protectant Spray as a multi-purpose cosmetic that protects, nourishes and makes my hair better-looking. I absolutely love this thermal hair protector from Nanoil. Oh, I almost forgot – you can find it on nanoil.us.