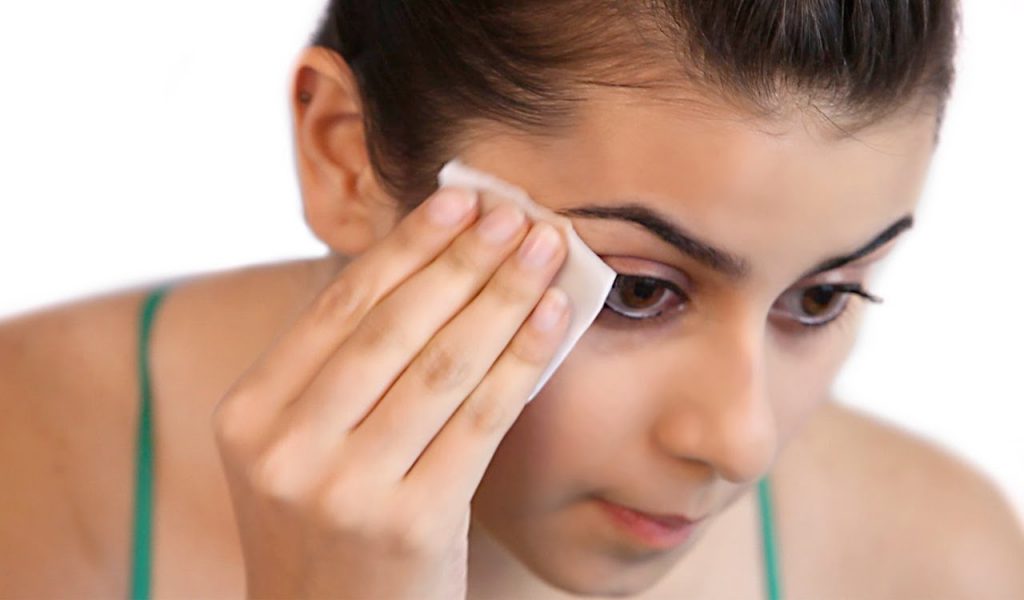 What if I told you that there is a way to combine make-up removal with care? Yes, it is possible. Today, I would like to tell you a bit more about OCM – Oil Cleansing Method. What is it? How to do it? What oils will be most suitable? If you are interested to find the answers, keep on reading. 
Oil Cleansing Method (OCM) is the best way to thoroughly remove your make-up and impurities from your skin. It is based on a principle that oil is best to dissolve oil.
That is why it is highly recommended to use oils or biphase liquids to get rid of the cosmetics. They will deal even with waterproof cosmetics that other, regular removers wouldn't. I can assure that there is nothing my precious Sweet Almond Oil wouldn't remove;)
OCM is the perfect method for the owners of sensitive skin. Traditional gels contain detergents and alcohols that are responsible for the appearance of rashes, they irritate and dry the skin. However, if you use a natural vegetable oil, there is no way your skin will be irritated (unless you are allergic to the plant, but such happens very rarely). Oils do not damage the natural hydro-lipid layer of the epidermis and at the same time, protect against moisture loss. What is more, they also provide excellent cleansing properties.
I must mention that OCM means make-up removal combined with facial care. No other remover is able to provide our skin with such amounts of nutrients as oil. Let's talk about (my favourite) Sweet Almond Oil for a while now. It contains a range of vitamins A, E, D, B, as well as mineral salts, proteins and of course omega acids. Just imagine all the good things it does to the face – all while removing makeup!:)
The effects of using OCM:
facial hydrolipid balance
thoroughly cleansed, moisturised and soothed skin,
less amount of blackheads,
a proper level of sebum secretion
(also a bonus!) strengthened eyelashes and nails.
I kind of elaborated on this topic, however, I just want to express it loud and clear that OCM, or in other words make-up removal with oils, is absolutely, without a doubt, the best way to get rid of your make-up, excess sebum, at the same time moisturise, and beautify. One might doubt whether it will be suitable for all skin types. Of course, the key to success is to select the proper oil that will be suitable for the needs of your skin.
What are the best oils for this job?
You can finally throw away all your make-up removers you have been using so far. All you need is a blend of oils that match your skin. I'll try to tell you a bit about how, in my opinion, a good blend of oils should look like. The preparation takes no time nor effort, however, if you wish, you might as well use a single oil. The final decision is up to you.
In my opinion, regardless of your skin type, each blend should contain Castor oil because it is similar to human sebum. It absorbs impurities, kills bacteria, and is anti-inflammatory. However, it will not work well on its own. Which is why it is recommended to use another, base oil. Here are the proportions that might be useful for the beginners:
dry skin – 100% Castor Oil + 90% base oil
normal skin – 20% Castor Oil + 80% base oil
oily skin – 30% Castor Oil + 70% base oil
But which oil will be most suitable for the base? It all depends on the needs of your skin. It always worth following the simple rule, the more oily the skin, the lighter the oil. I will leave a list below to show more details:
oils for dry and mature skin: Sweet Almond Oil, Grape Seed Oil, Sea-buckthorn oil, raspberry oil, borage oil, Argan oil;
oils for normal skin: Avocado Oil, Hazelnut oil, Sweet Almond Oil, Apricot Kernel Oil, Jojoba Oil, Rose Oil;
oils for oily skin: Walnut Oil, Jojoba Oil, Linseed Oil, Sesame Oil, Peach oil, Rice Oil, Soybean Oil, Pumpkin Seed Oil;
oils for capilary skin: Borage Oil, Sesame Oil, Jojoba Oil, Sunflower Oil, Sweet Almond Oil, Wheat Oil, Rice oil, Grape Seed Oil
oils for acne prone skin: Linseed Oil, Sesame Oil, Blackseed Oil, Safflower Oil, Camellia oil (as an additive).
As you can see, the recipe for cleansing combined with care is extremely easy. Simply take an appropriate amount of Castor Oil and blend it with a base oil. Then, pour the mix into an empty glass bottle and use on a daily basis. How to use it? I will briefly tell you how I do it. Firstly, I wet my face with water (regardless whether I am wearing make-up or not). It is better if you heat up the bottle with oils, you can do it under running water. This way OCM will bring the best results. Then, I apply a small amount of oil to the face and gently massage it. Next, I rinse and if I have any remains of eye make-up, I just wipe with a clean but dampen cosmetic swab.
See for yourself how great it works!:)