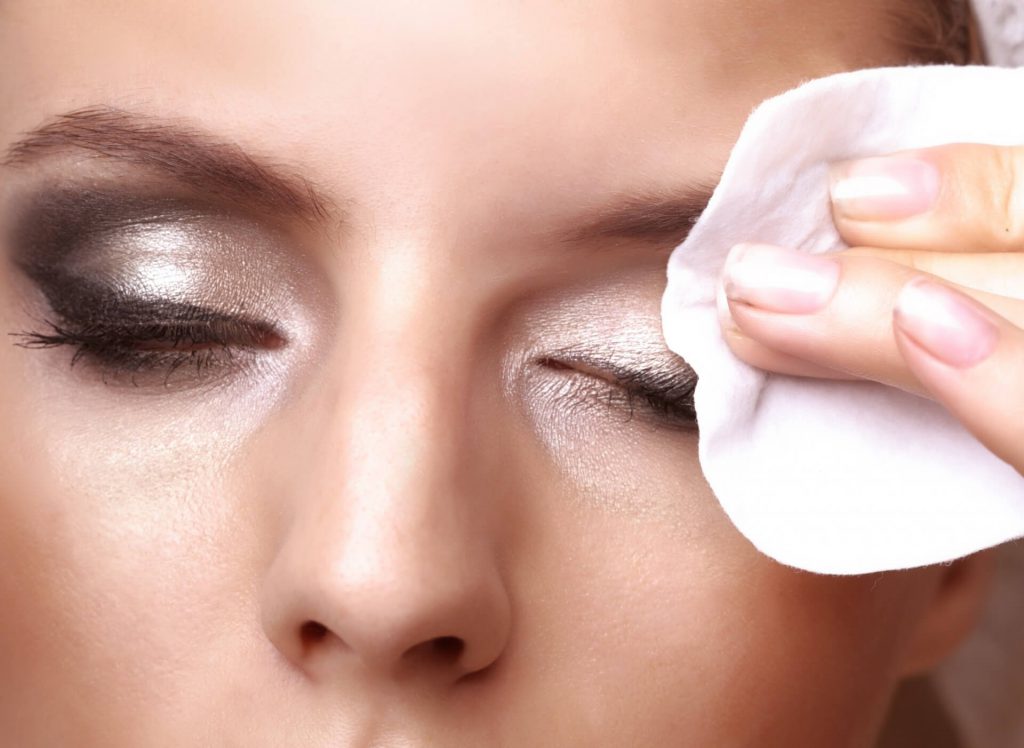 Do you like applying your makeup? I don't. At least not as much as I like wearing makeup, it's the activity that's a bit annoying. Do you like removing your makeup? To be honest…I just can't stand doing it. There is nothing pleasant in rubbing, ruubbing, ruuubbing the skin with a cotton pad. At first, you have to remove your mascara (cotton pad no 1), then, the foundation and all the colored cosmetics you used in the morning (3 to 4 cotton pads). All that to end up with a red face looking awful? (and yes, I know, what matters is what's inside…). I am almost certain that both the makeup application and removal will accompany me until old age, which is why I started looking for alternatives that will make these two processes a bit more pleasant and less aggravating. Luckily, I found what I was looking for! I am pleased to introduce you to my homemade methods for natural makeup removal.
What exactly is a natural makeup removal?
Natural makeup removal is the one made with substances occurring in nature or with plant-based cosmetics. It is aimed at cleansing the face, getting rid of makeup without irritating and disturbing the hydro-lipid layer. This way, it will not only remove makeup but also improve the skin's condition. If you also love natural medicine and organic cosmetics, then a makeup removing glove, Aleppo soap or OCM method are just right for you!
Natural makeup removal – the glove 
The makeup removing glove has its cleansing properties thanks to its thin microfibers in the shape of an eight-pointed star that removes makeup when in contact with water. When cleaning, the microfibers penetrate the skin and collect dirt particles, and do not irritate the skin. The makeup removing glove works without the addition of any detergents or cosmetics and it is appropriable for about 2-3 months of regular use.
Natural makeup removal – soap from Aleppo
Soap from Aleppo is fully vegetable. Although it was made from natural oils, it has the properties of a classic chemical soap. It can be used once a day as a makeup remover. It will deal with acne and strong evening smokey makeup. To apply the soap from Aleppo, it is enough to lather it in the palms of your hands, apply it to the face and rinse with lukewarm water.
Natural makeup removal – Dudu-Osun soap
Soap Dudu-Osun is an African soap, which thanks to its highly cleansing properties can get rid of even waterproof cosmetics. It consists of shea butter, aloe vera, cocoa, palm oil, honey and red sandalwood. Dudu-Osun soap removes makeup and sebum from the face and reduces the visibility of discoloration. It does not leave the feeling of tight skin typical for traditional soap; on the contrary – it makes the skin well-moisturized. Just wash it with the lather, wait for it to dry, and wash down with warm water.
Natural makeup removal – OCM method
OCM stands for Oil Cleansing Method – it is a method of cleansing the face with natural oils. It is not just an effective way of removing makeup but also a pleasant cleansing ritual. The OCM uses the properties of castor oil and selected base oil to dissolve dirt. The method is suitable for cleansing any type of skin, but I know people with oily and acne skin complaining that OCM enhances the facial shine. The method is very gentle and usually does not require the use of cream, but on the other hand, it's pretty time-consuming.
Natural makeup removal – Physiological saline
Physiological saline can be used as a substitute for tap water that changes the pH of the skin. It works like micellar water, but it is much more delicate. If you prefer lighter makeup, saline will work perfectly! Just apply it onto a cotton pad and wipe the face until it is completely cleansed. If you combine it with a marigold or chamomile extract, it will work like a face toner.
Natural makeup removal – honey and baking soda 
The combination of honey and baking soda is a great way to remove makeup and exfoliate the skin at the same time. For this cleansing and exfoliating preparation to be created, it is enough to mix 2 teaspoons of honey with a little bit of baking soda and apply it to your face with a cotton pad. Soda may irritate the eyes, so do not use this mixture for the eye makeup removal.
Natural makeup removal – sunflower oil 
Sunflower oil works like a bi-phase makeup removal. It can be replaced with another vegetable oil or even olive oil. The entire ritual is more time-consuming than a traditional makeup removal but it leaves the skin fully moisturized, nourished and soft. All you need to do is to soak a cotton pad with the oil of your preference and press against your skin, firmly but gently for a few minutes. Keep repeating until the cotton pad gets completely clean.
Natural makeup removal – aloe vera 
All homemade cosmetics based on aloe vera, including makeup removers, are especially recommended for women with very sensitive and even allergy-prone skin. Aloe brings relief to the skin, moisturizes it and soothes inflammations. If you own a plant at home, you can use fresh aloe, and if not, simply buy pure aloe juice or aloe gel without additives.
Natural makeup removal – my opinion 
I have tried out all homemade methods of makeup removal described above. I was satisfied with each of them but I was most impressed with the cleansing properties of aloe vera.
I am genetically loaded with very sensitive skin. My all cosmetic experiments end up with irritation, itching or rash. I must tell you that aloe vera did not cause anything like that, and the makeup removal is effective, quick and pleasant.
This is a recipe for an aloe-almond makeup removal gel that I've been using for the past few months
Ingredients:
1 tablespoon of aloe vera leaves or aloe gel,
2 tablespoons of sweet almond oil,
1 small jar.
Directions:
Pour all the ingredients into the jar, close it and shake vigorously to mix them well. Apply the mixture with a cotton pad, leave it on the skin for a few minutes and wash with lukewarm water. Store the preparation in a dark and cool place for 2-3 weeks. Over time, the cosmetic will stratify, so shake the jar before each use.
Do you know other ways for a natural makeup removal? What is your favorite method? Perhaps you prefer traditional facial cleansing methods? Let me know in the comments!